Yellow-bellied Sea Snake rescue
Thursday, August 8, 2013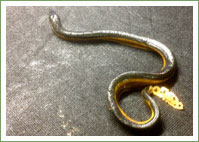 In recent months, inclement weather has given a handful of WIRES wildlife carers the rare experience of rescuing a Yellow-bellied Sea Snake from the shores of Sydney.
Coming across a Yellow-bellied Sea Snake is a rare event because the species typically only comes ashore when it is exhausted or very sick. It can live its entire life, including giving birth, out in the open sea.
Carers at WIRES have helped to rescue five of these yellow bellied critters during the autumn and winter season this year from Bondi, the Northern Beaches and the Mid-North Coast. The chance of survival can be quite low as they are always rescued in such poor condition.
Most recently, some very kind lifeguards at Bondi Beach ensured a Yellow-bellied Sea Snake was rescued by a WIRES wildlife carer. We found that it was covered in quite a bit of algae meaning it was very close to shedding its skin.
Sea reptile experts at the Sea Life Sydney Aquarium Centre often take in sea snakes like this to give it the best possible care until they have made a full recovery.
An adult Yellow-bellied Sea Snake is a bit less than a metre long. The Yellow-bellied Sea Snake can be a yellow or a yellow brown colour on its underside, with a black topside and will have appearances of spots or stripes on its tail.
This species is the most common of all sea snakes and the most widely spread. It sheds its skin more regularly than terrestrial snakes and also does this while out drifting.
While we might not see them very often, and when we do it's usually the worst day of its life; people should not attempt to handle them. If you find an injured, sick or orphaned native animal call WIRES on 13 000 WIRES.