Laid back koala makes an impression
Friday, June 9, 2017
Koalas in NSW are now listed as 'Vulnerable' by the NSW government. This means they are at high risk of extinction in the medium term and this in turn makes each and every rescue and release that WIRES is able to accomplish even more important in the scheme of their long-term survival.
In February a property owner at Caroona, south of Gunnedah spotted a koala hanging around a lonely stand of young red gum. This was during a period of very high temperatures.
The owner of the property knew that a nearby bore pipe had sprung a leak making a nice puddle and he thought the koala may have been attracted to the water and did not think too much more about it.
A few days later he noticed the koala had still not moved on and was staying very low down in the tree so he decided to investigate. Closer inspection revealed he looked very thin and had a badly inflamed eye, so he took a photo and called WIRES.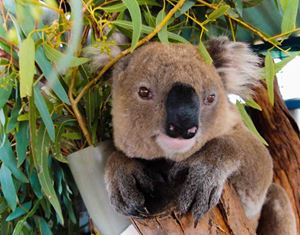 WIRES volunteer Kelly headed out to the property on her way home from work later that same day, but despite their best efforts they were unable to contain the koala. A few days later, Kelly returned hoping he might be down low in the tree where it was cooler. He had moved and was now in a nearby stand of pine trees where it was cooler and quite shady and was only about six feet off the ground.
Kelly tells us that he just didn't seem to have any energy left to resist and with the help of the property owner, the koala very obligingly climbed down straight into the 'Koala Transport Pod' (fancy name for a clean plastic garbage bin).
At Tamworth Veterinary Hospital, Dr Sarah swabbed his eyes to test for Chlamydia*. As the test takes two weeks for the results to come back, Kelly took him into care and proceeded to bath his infected eye and administered ointment twice a day. Known as Col for the duration of his time in care, Kelly says the koala never complained, nor even tried to turn his head away even though he must have been scared and in great pain.
The test results came back positive for Chlamydia, and he was given a course of a difficult to obtain drug that has proven very effective in treating koalas with this debilitating condition. The treatment involves four weeks of daily injections, then another swab, so another two week wait. All up, Col was in care with Kelly for three months, during which time he was a perfect patient.
He came in weighing 7.8 kgs and was 9.4 kgs when released. Col was released him back into the same red gum where he was first seen.
The property owner and his young son came along to the release and were delighted to see the koala in much better health. He was hisusual charming, laid back self and even allowed Kelly to take a few photographs before he took off up the tree.
Kelly says while she loves all the animals in her care, Col was a special boy and one of her favourites. Seeing him make a full recovery and be released back to the wild was extremely rewarding, she says.
Find out more about our work with koalas.
*A different strain of the disease from that which affects humans but sadly common in our koala populations. It is a painful, and often fatal condition impacting an estimated 50% of koalas across Australia.