News - Flood Rescue
Thursday, December 2, 2010
The rains in the Central West of NSW in early December resulted in widespread flooding and impacted enormously on wildlife.
On Thursday morning at Lake Burrendong, in the central west of the state reached 139% capacity up from 106%the previous day.
The huge and sudden influx of water meant thatTwo Tree Island became submerged. Some months ago WIRES members knew there were up to 50 kangarros and several emus on the island. On Thursday between 15 and 20 kangaroos were sitting in the water near the remaining trees.
At around 1 pm we received word that WIRES memberswere involved in a rescue along with other community groups.
The kangaroos were actually almost up to their ears in water and the VRA, Sport and Rec Centre staff and WIRES member Ann Mara are working frantically to get them to safety using the nearby Sport and Recreations centre canoes.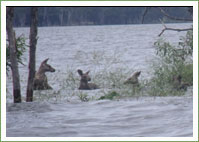 By 1.30 pm one kangaroo had been rescued. Ann Mara, a WIRES member who works at the Burrendong centre was able to put a rope around it and coax it to swim to safety. It was in poor condition and very weak, especially by the time it got to shore safely. The trees on the island were also the chosen refuge for a very large goanna which should have been able to swim to shore.
By 3 pm we heard that all the kangaroos had been successfully rescued from the floodwaters.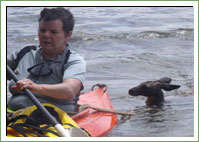 After a very long and stressful afternoon all 18 very scared kangaroos had been rescued from a horrible death and although in quite poor condition were able to be released and observed nearby.
The WIRES members report that during the rescue they were contending with a multitude of spiders (many horror stories), frogs, mice and a couple of snakes all in the water with the rescuers and all desperately trying to find a refuge.
The rescue was a fantastic community effort and WIRES would like to thank the VRA, Centre staff and the NPWS in Bathurst for such valuable support and assistance throughout the day.
Thanks also to Helen Swan for keeping us updated on the progress of the rescue.