wallaby-rescued-300-metres-from-shore-off-patonga
Wednesday, October 28, 2015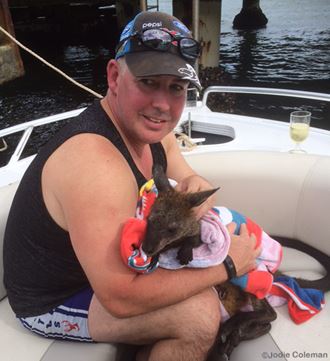 Four friends who were out for a day of fishing on Broken Bay on the weekend were astounded when they saw a wallaby in the water. They were over 300 metres off the shore at Patonga!
There was quite a strong wind and they knew they had to act quickly as they could see she was struggling and starting to go under the water and they were losing sight of her in the white caps.
Dave managed to manoeuver the boat near her and then he and Glen managed to reach over the side and get her on board the boat. They wrapped her in towels and Glen held her all the way back to shore where Jodie was able to call WIRES.
WIRES volunteer, Gary had to make his way to Patonga from Gosford and the wallaby sat quietly in Glen's arms waiting for help to arrive. Thank you Dave, Raelene, Glen & Jodie for saving her life.
This video was taken by Jodie as WIRES volunteer, Gary arrived at Patonga to take her into care.