Rare penguin rescue and release
Thursday, May 22, 2014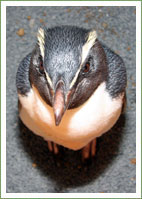 Read more about the recent Fjiordland Penguin rescue and release and see the release photo's on our Facebook page.
Sign up for our enews and receive rescue stories directly to your inbox.
In September last year this Fjiordland Penguin was found lying amongst the rocks by Mara, at Tura Beach, thoroughly exhausted and with a major injury thought to be from a boat propeller.
After weeks of intensive care with Janine, a WIRES volunteer, treatment from Merimbula Veterinary Clinic and copious quantities of fish...he began to recover.