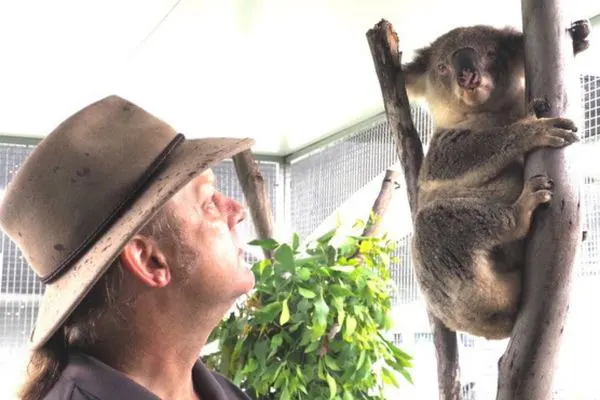 Why I care for wildlife
Friday, January 27, 2023
Morgan with a rescued koala at the WIRES Koala Rehabilitation Facility.
Throughout my youth, I thought about becoming a wildlife carer, but the real impetus came from my 13-year-old daughter. At that time, she was too young to become a WIRES wildlife carer, so I decided this was my chance to do it myself. As she grew up, she accompanied me to all WIRES training courses and became a WIRES volunteer carer as soon as she was old enough. The passion she has for koalas inspired me to work professionally with them.
I have taken care of and released koalas for eight years now. Despite this, I still feel like a novice as new diseases and challenges arise. Like Monty, the first koala I looked after at the WIRES Rehabilitation Facility. When he was brought into care, he had chlamydia and was underweight, so we immediately had to improve his body condition so he could receive antibiotics. Monty was set for release after four months of care at the facility and treatment for his eye problems caused by chlamydia. It was a tragic turn of events when he unexpectedly developed a large hole at the back of his jaw that didn't become apparent until he was too ill, and a sepsis infection had already spread to all parts of his body. He was not able to be saved.
Whenever I think of Monty's story, I still choke up. It becomes a big part of not just my life, but my family's life after I have cared for an animal for several months. It is always so devastating when something unexpected happens, and when an animal just can't be saved. With habitat loss, there are new challenges which we are facing with our wildlife and so much we still don't understand as to how that is affecting them.
We are so blessed by all the abundance of wildlife in this country. Wildlife we don't have anywhere else on the planet. But, we're not looking after their habitat. Habitat protection is the key to all of it. The ongoing support we receive is really important so we can keep on doing what we can so we can help save wildlife in desperate need, both from a caring perspective but also the greater work we are doing with restoring habitat. If we hadn't had the support, Monty would have had a much shorter life than what he had. The time is now if we want to preserve this precious species for generations to come.
By WIRES Volunteer Morgan Philpott