Workers help WIRES to rescue koalas from logging site
Tuesday, April 16, 2013
Workers from a pine plantation helped WIRES to relocate several koalas into new habitat after logging activities displaced them.
This image was taken by the WIRES volunteer who drove out to rescue the young sub-adult male koala and could barely believe her eyes and took a quick photo as she set about rescuing him.
"Koalas would have been moved out of their homes in preparation for planned logging activities in the nearby State Forest. It is common for koalas to roam back to their home range afterwards and become confused to find nothing there," says Leanne Taylor, General Manager of WIRES NSW.
"A worker noticed a koala had been sitting stationary in broad daylight on top of wood piles for over an hour. Investigations by a local vet found this koala had an ulcerated eye and was possibly also disorientated.
"WIRES is pleased that workers took the initiative to assist the native animals, and from this, we are working to relocate several koalas that have been found in the area into suitable habitat.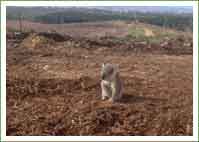 "WIRES rescued 400 koalas in NSW over the past year alone. We are pleased to be playing our part in maintaining, protecting and assisting in the recovery of indigenous koala populations," says Leanne Taylor.
Koalas are listed as a species that is vulnerable to extinction in NSW.
The young male spent a few days in care until his eye cleared up and he was successfully released into the nearby koala habitat. He is pictured here after release, pleased to have a tree to climb once more.