Wet and wandering echidna
Friday, July 23, 2010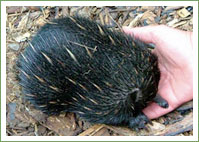 This young female echidna came into WIRES care after she was found wandering around after heavy rain most likely washed from her burrow. She was flyblown, waterlogged and still dependant on her mother's milk.
To make things worse some of her spines had become infected and were starting to fall out. Not a good start for a 'just spined' young echidna.
After a thorough wash at Lismore Central Vet Clinic, Veterinarian Tony and her team of Vet Nurses set to work to clean between each of her infected spines. This was quite a lengthy process but everyone was delighted to help bathe her wounds.
Little 'Boo' was a very good patient and then went into care with WIRES Echidna coordinator, Sharon, who had been assisting at the Vets'. Boo then began her rehabilitation in her new home, a hollow log in an undercover fly proof enclosure.
She responded well to her new dry surroundings and enjoyed her specialized diet. Under Sharon's care, her wounds began healing and she steadily gained weight.
Sharon said, "these little ones often get very bored in care, so it is important to keep up a regular supply of new termite ridden, rotten logs for them to explore. Boo is no different to any other young Echidna, and delights at destroying all of her logs in search of termites".
After a month in care Boo has now gained her release weight and is ready for release back into her 'home range'. Sharon believes she has a will to thrive and says that Boo is very active juvenile. All good signs for a young dispersing Echidna. She has a bright, inquisitive demeanor and should do well in the wild.
Many animals in longer term care require costly treatments and specialised food. WIRES receives little government funding and relies on the generousity of the public to help our volunteers in thier work. Please donate now to help.