Web catches Superb Fairy Wren
Friday, March 6, 2015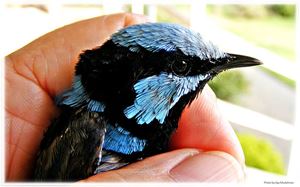 This beautiful male Superb Fairy Wren was found one recent morning by WIRES volunteer, Kay. He was caught in a cobweb! If anyone else has had experience with this we would love you to share?
The web had been spun between lower branches of a tree and this poor little guy was well and truly stuck, dangling by one wing. Kay tells us they carefully cleaned off all the cobweb, feather by feather.
Immediately after this photo was taken Kay opened her hand and he was off. No sooner had he landed when a female flew in and joined him! They hopped along the verandah rail together, with the boy cleaning his beak off as he went. Then they flew up into a silver birch tree in our front garden, where he proceeded to give himself a good preen - with his lady in attendance. What a wonderful start to the day!
Kay says she has never seen a bird caught in a cobweb before, and was astounded. Spider webs are known to be strong, but this was amazing!