Update on flying fox pups rescued two weeks ago
Tuesday, October 25, 2011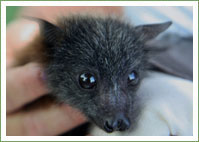 We recently brought you the story of three very young flying-fox pups rescued by WIRES in northern NSW.
Two weeks since their rescue and we are very pleased to report that all three flying-fox pups are now 6 weeks old and doing very well with their human carers.
They drink regular cow's milk four times a day and in two weeks time at 8 weeks of age they will be introduced to blossoms and fruit.
They have already begun to stretch their wings and practise flapping. At about 12 weeks of age they will take their first flight.
Then they will go into an aviary and will be soft released back into the wild with support feeding at about 18 weeks.
Flying-foxes are nature's gardners because they are the only pollinators and means of seed dispersal for particular rainforest trees. No bats, no forests. It's a simple environmental message.
As wildlife carers, we enjoy raising orphaned flying-foxes not only for their crucial environmental role, but also because they are the only wildlife species that benefits from forming a bond with their human carer.
We have to be careful not to humanise all other wiildlife species. Flying-foxes, on the other hand, bond with their human carer for the first 10 weeks of life then, just like human teenagers, only want to mix with their own kind and are not interested in their primary carers.
At this point, we as wildlife carers are happy knowing we have done our job and will soon see the young flying-foxes flying free.
These young flying-foxes are just three of the estimated 3,000 native animals who will be in care with WIRES volunteers this Christmas.