Turtle Hatchlings
Monday, April 1, 2013
An Eastern long-necked turtle with a crack in her shell came into our care, she had to go to South Penrith Vet to have her shell wired up, and they initially thought she might have been carrying eggs but when we picked her up they had decided it was a false alarm.
Nearly three weeks later she laid 10 eggs in about 40 cm of water at the bottom of our turtle tank. It was then a frantic effort to remove the eggs, trying to lift them from the bottom of the tank.
Once out, we popped them onto damp kitchen towel in a polystyrene esky with a heat mat underneath. Then it was off to the pet store to purchase an incubator, they thought we were mad, we were told just to throw out the eggs as they won't hatch because they were laid in water. We decided to give them a chance.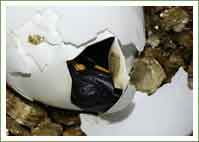 After some research we calculated they should hatch around three weeks later, this came and went, maybe the guy at the pet store was correct. We had scorching temperatures, we lost power, the incubator stopped working four times during the night but we just kept thinking a little bit longer and finally after 72 days, turtles started to hatch.
At the moment we have 8 little turtles the size of ten cent pieces, eating mosquito larvae. Two eggs were not viable. The mother meanwhile had the wires removed from her shell and was released a few days later.
These little dudes have overcome a multitude of obstacles to come into this world, it has been the most exciting and rewarding experience we have had since joining WIRES.
Images and story by WIRES volunteers Rhonda Hansen & Sean Fulton