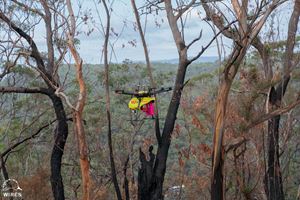 The Ripper Alliance Partnership
Thursday, February 27, 2020
WIRES has partnered with The Ripper Alliance investing $150,000, with the generous support of Westpac, in a six-month trial to test the use of drone technology to assist in the provision of fast rescue assistance for wildlife impacted by major emergencies. It is anticipated that the use of drones will complement on the ground efforts to identify surviving wildlife in bushfire affected areas.
Beyond this immediate crisis, WIRES is committed to utilising innovative technology to improve outcomes for all wildlife and this partnership presents a new opportunity to access critical information about the prevalence and movements of certain species as well as mapping habitat to inform future decisions on how we can better protect native wildlife.
The first test of the drones to assist with immediate rescue was 11th January and their have been numerous research and testing field trips since then.
More information is available in this article from 9 News.