Sugar Glider - Rough start to the year
Wednesday, January 12, 2011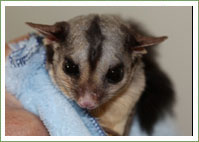 This little Sugar Glider had a rough start to the new year, being found on the road in the north of the state on New Year's Day.
Gliders are rarely hit by cars so there had to be another reason why this little fellow was in trouble.
It turned out he had two large paralysis ticks. Gliders are normally immune to ticks, but for some reason ticks are particular toxic this year and WIRES has received many animals into care that would normally not have problems with ticks.
So far most have recovered after the ticks have been removed, few days in care and most are released back to where they were found as was the case with this little fellow.