Square-tailed Kite
Tuesday, August 28, 2012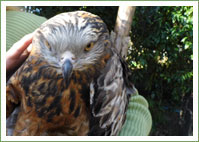 Square-tailed kites are listed as vulnerable in NSW.
They are a medium size raptor with a white face and thick black stripes on the crown.
This beautiful Square-tailed Kite came into the care of WIRES in the Clarence Valley after having an altercation with a Masked Lapwing - also known as Plovers late in July.
While the exact circumstances are unclear, the Lapwing may have been protecting a nest and attacked or the Kite was looking for lunch. Either way the Lapwing died and the Kite was grounded.
The day after she was rescued, her left wing dropped. She was taken for x-rays but there were no visible breaks so she must have jarred her wing on impact with the ground.
After being confined to protect the wing she finally got back in the air and was able to build some strength and flight fitness. With breeding season approaching, we were keen to get her back to where she was found.
As we approached the rescue location she began to move around her enclosure and became more and more restless. She seemed to know she was close to home.
When she was released she flew very strongly up above some very large eucalypt trees, circled and with the local small bird populations hot on her heels, got her bearings and headed straight for an area nearby called Eatonsville Rd.
We had released a square-tailed kite chick at Eatonsville Rd nearly 3 years ago so it is possible this bird could be her mother or sister. We will never know for sure but we do know the Square-tailed Kite population is one member stronger.
Hopefully she will leave the Lapwings alone in future.