Shy Albatross collides with yacht
Monday, August 5, 2013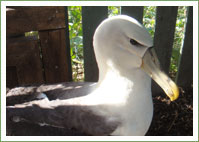 This juvenile Shy Albatross was flying the expansive Pacific Ocean when he managed to somehow fly into the aerials of a $5 million dollar yacht off Eden.
The kind skipper of the boat took a detour to meet John from WIRES Far South East Branch at the wharf and he then drove the injured bird to Janine at Merimbula for further care. Fearing a punctured lung, Janine had him checked at Merimbula Vet. Luckily the hole had not pierced the chest cavity. He was treated with antibiotics and feasted on half a kilogram of squid for several days.
NPWS took Janine and the albatross 2 km's off shore to release the majestic bird back to the wild, we are hoping he will steer clear of all boats in the future.
These beautiful birds are endemic to Australian waters and listed as vulnerable.