Road trip rescue - all in a days volunteering
Tuesday, May 12, 2015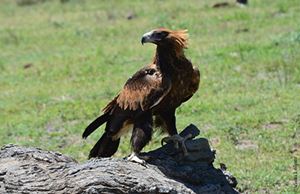 Vicki and Anthony are both WIRES members who live in a regional area in South West NSW, about 100 km north of Wagga. They are members of our Riverina Branch which covers a vast area of southern NSW. Vicki and Anthony are both trained raptor carers. They recently had a majestic male Wedge-tailed eagle in care for over 2 months after an amazing rescue that highlights the extraordinary dedication shown by so many of our volunteers.
Earlier in the week a farmer noticed a full grown Wedge-tailed eagle on the ground near a fence line on his property and has he came and went about his farm he began to take note that it had not moved from the area in several days. The farmer had tried to approach the bird but he was just well enough to be able to flap and move away. It was obvious that he was not well.
After contact was made with WIRES, Vicki and Andrew went to rescue the large eagle. It was a 500 km round trip from their home to Manna Mountain, where the farmers property and the injured eagle were!
When they arrived it took over 2 hours to contain the large raptor – night had fallen by the time they successfully had him contained.
He was taken to the CSU Avian Vet Clinic for x-rays which revealed he had a badly broken leg. They decided they would pin the leg but needed him to be in much better shape before the operation. His condition was poor after what we assume was so much time on the ground with the broken leg, unable to hunt and feed.
Finally after a 2 further months in care and a full vet assessment to ensure his claw was fully functioning he was back able to be driven (another 500 km round trip) back to Manna Mountain for release.
Vicki says on his release, he spent 5 minutes taking in his surroundings from a tree on the ground, then he stretched his wings and let the wind ruffle them, moved from branch to branch, then soared as high as he could go and headed back to his mountain.