Possum Surprise
Wednesday, March 2, 2011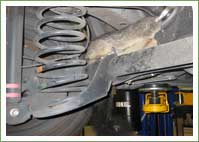 The mechanics at Sydney City Toyota casually put the car on their hoist the other morning but found more than they had bargained for when they looked underneath the vehicle!
Up underneath the car near the front wheels was a very scared but otherwise unharmed brushtail possum.
The business called WIRES immediately and we were able to despatch our rescue ambulance to help.
Knowing the location of the car the previous night, our ambulance operator was able to release the possum back to its home territory.
Our Rescue Ambulances are on the road every day helping wildlife in distress you can help by donating to our Rescue Ambulance appeal to keep them on the road.