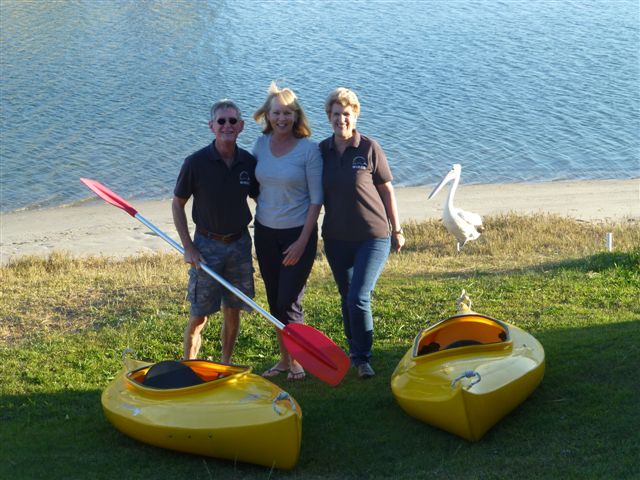 Pelican Entanglement - Yamba
Tuesday, November 14, 2017
A Pelican in Yamba needed help. Local resident Joyce, contacted WIRES to report a Pelican with a fishing line wrapped around its neck and wing and unable to fly. Although the inability to fly was distressing for the Pelican it made it more likely that it could be contained. Containment was obviously necessary to help disentangle the large bird.
Local Clarence Valley WIRES volunteers Garry and Heather headed out to the scene. They found the bird understandably very distressed and as soon as they approached it took to the water. Our intrepid rescuer, Garry ably assisted by Joyce took to the water in kayaks.
Eventually, Garry managed to secure the bird next to his kayak and Joyce was able to tow him back to shore as he kept hold of the pelican.
Once there, Heather made quick, careful work removing the fishing line, a quick once over and it was given the all clear and released back into the water, tail feathers swishing and wings flapping.
Hugs and high fives for everyone involved as they watched it swim away. Huge thank you to Joyce for calling WIRES and assisting in a successful rescue!
Joyce has since reported that the pelican has returned and you can see in the sunset photo is looking healthy.
Please remember to always discard fishing lines properly to prevent avoidable injury and death to the birds and animals that inhabit our waterways.
Image thanks Joyce de Bruyn & Garry McKenzie