Pademelon joey rescued from roadside
Friday, February 6, 2015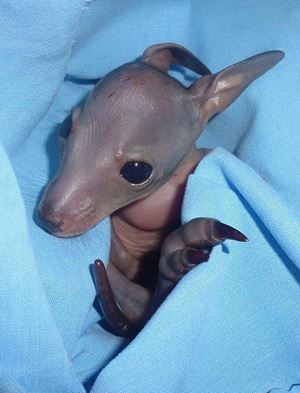 The mother of this young joey was killed by a car some time during the night, the car did not stop. Early this morning a passing motorist noticed the little and not yet furred joey trying to get out of the pouch. The joey was given a helping hand, wrapped snugly and WIRES was contacted straight away.
The joey is a Pademelon weighing just 220 gram. His will to live is evident, even with a head injury he is still interested in his surroundings, although his life has changed in the short term, we feel certain he will be ready to return home to the bush in about 7 months.
Wherever it is safe to do so, please stop if you see an animal on the road, even though it may be already dead, a little one just like this may be uninjured in the pouch.