One relaxed and happy customer!
Thursday, January 14, 2016
This young echidna puggle was found in the Riverina area late last year. It was found all alone and covered in ants and weighed only 400 g. He is now 670 g, about 4 months old, and as you can see in the second image he is one relaxed and happy customer!
He is currently being fed every 5 days or so, he wakes up, has a drink of water, roots around and completely excavates his dirt tub, scratches himself and snuffles in his water bowl, and then drinks 20% of his body weight of his special milk. Ellen tells us he sucks it from her hand like he would from his mums milk patch, and it sounds like a kid slurping up the last of a milk shake with a straw *sluuuuurp*.
His belly gets big and full and he gets sleepy, I put him back into his tub of dirt where he digs down into a corner and falls fast asleep and that's where he stays for another 5 days.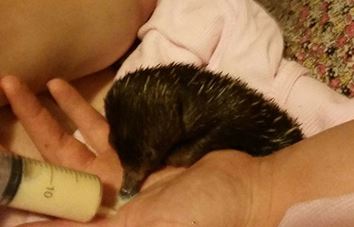 'Kenny' will be in care until spring. For the rest of summer he will be inside with his big tub of dirt that he already loves to dig in. When the weather is a little more agreeable he will be moved outside to a special pen where he can really learn to forage for himself.
This week he will be being introduced to solid food and that means his carer Ellen has to source some nice rotting termite logs for him to rip up. The logs provide great enrichment and nutrition for him while he is in care.
It is important to remember if you find young orphaned native animals to call WIRES as soon as possible. Getting young animals into care with an experienced carer will give them their best chance of survival and also their best chance of being returned to the wild.