Newcastle Oil Spill Rescue Efforts
Thursday, September 2, 2010
According to the Newcastle Herald, earlier this week oil was pumped accidentally from a coal ship on Kooragang Island. The oil and water mixture was pumped into the harbour as the ship was "deballasting" to take on coal. The thick, black oil has coated rocks on the island shore despite efforts to contain the spill.
In addition to covering the shoreline, the oil has also affected birdlife with a number of pelicans rescued, which were covered in a dark, greasy sludge.
The wildlife rescue effort has seen NATF, ASR, WIRES, RSPCA & NPWS working together to save the affected animals. Members from all groups have been trained in processing, washing and drying the pelicans found and so far all but one are faring well. Sadly no other smaller birds have as yet been found.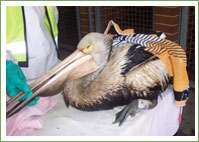 Audrey Koosmen from NATF reports that she had a visit from the company owner of the ship and that "as I showed him around the rescue operation he became quite distressed by the oil on our birds. He also saw the toll this took on us."
WIRES Wildlife Ambulances and ambulance officers have also joined the combined rescue effort and are helping with transporting the birds to locations where they can be treated. It is likley many of them will be in care for some weeks.
The Kooragang Wetlands covers 1590 hectares on three sites in the Hunter River estuary adjacent to a major port and industrial complex as well as a large urban area (Newcastle) in New South Wales it remains a biodiversity "hot spot" with 27 threatened species and one threatened community, over 180 species of birds including 24 migratory species, 42 species of fish and crustaceans, 15 species of frog, 10 species of bat and over 300 species of indigenous plants.
The wetlands are internationally recognized, being part of the Ramsar-listed Hunter Estuary Wetlands.