New Carer tends to Echidna
Wednesday, December 8, 2010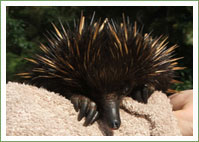 My husband and I joined WIRES, early this year and the 2 day training course was excellent I have done some shifts on the 24 hour Hotline and 3 weeks ago our first echidna. Mr Big , as we call him, came into our care as a result of a being hit by a car.
He now resides in a 3 metre pen under the house, as that's the coolest spot and it's covered in mosquito net to keep away the flies.
Because he has a broken snout, we are unable to place any soil or hard objects in the pen, so we place lots of shredded newspaper in there for him to burrow under.
Vets will x-ray his snout again this week, if all is well we hope to release him at the end of the month.
In the lead up to taking an animal into care we have been provided with lots of support and information by the Branch Echidna Coordinator.
Indeed we have been provided with lots of support and information since becoming WIRES members with plenty of training available.
We have found WIRES to be a very professional organisation managed by an incredible team of people and we feel proud to be part of it all.
If you want to make a difference in 2011 by becoming a WIRES rescuer or carer send us an email and register your interest. In late January we will send you course details for 2011 .