Native animals are calling all heroes
Wednesday, December 13, 2017
Everyday heroes come in many forms. Some people look out for our wildlife and call WIRES when they find an animal in need of help. Others are able to volunteer their time to become carers for orphaned, injured, and displaced animals.
WIRES receives many calls about birds that need assistance but we wouldn't have such a great success rate in rescues if it wasn't for heroes like the members of the public and emergency services who regularly lend a hand.
In late October, in the Northern Rivers region of New South Wales, some very observant council workers noticed the nest of a pair of tawny Frogmouths at one of the city's depots.
After watching the pair tend to their young ones over the course of days, the men noticed that the parent birds had not returned to the nest after some wild weather. Despite daily checks, they have not been seen since and their fate is unknown.
Concerned for the welfare of the young chicks and with the threat from predatory birds growing, the council workers contacted WIRES, and volunteer rescuer Marion attended the scene.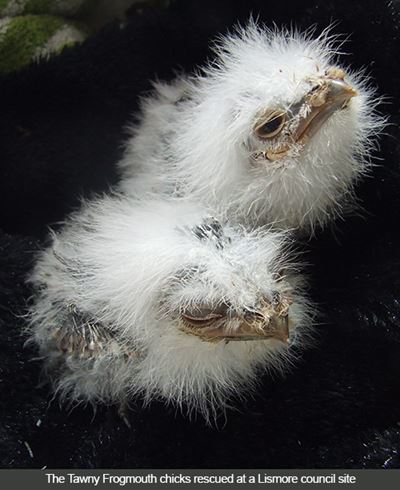 They decided to use a cherry picker to access the nest and bring the chicks to the ground, after consulting with the council's work health and safety officer.
Thanks to Lismore City Council and employees Rod, Trent, and Jeremy, the rescue operation went smoothly and the birds went into care with WIRES volunteer Julie. After four weeks regrettably, one of the chicks passed away, but the other one is doing well and has been housed with another young Tawny as a buddy.
"They do not always make it when raising them from such a young age," said Julie, adding that they were probably only a week old when they were orphaned.
Having had more than 200 Tawny Frogmouths in her care over the past few years, Julie has a special bond with these birds.
The peak rescue season at WIRES started early this year due to unseasonably warm weather. Some species, like our iconic Australian Wood Duck, are now nesting for the second time and raising new batches of ducklings.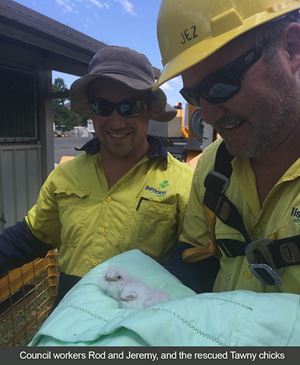 WIRES carer Inga has rescued scores of ducks from different parts of Sydney over recent months. One rescue started with a call from a motorist on a very busy road at Leppington in southwest Sydney.
"Two baby wood ducklings had fallen down the drain," says Inga. "It was on a busy road and we had to call in the Fire Brigade to assist in the rescue… unfortunately we were only able to find one of the ducklings."
Thankfully, the rescued bird was in good condition and after some time in care, Inga was able to release it back into the wild. She says that ducks usually know exactly where they are going.
"When people find them on roads or footpaths they are often taking their ducklings from their nest site to the nearest waterway."
But for those that are in danger WIRES provides a vital lifeline and donations ensure there is someone there to take the hundreds of calls for help we receive each day.
The reality is that our greatest heroes are our donors and virtual carers who provide ongoing financial support.
When you become a hero for wildlife you will be overwhelmed by the benefits. Not only are you saving the lives of our precious native animals, but the support you offer to WIRES will enable us to continue providing a vital service to the community.
It's easy to make a secure donation.