long-term-patient-released-in-the-far-south
Tuesday, May 22, 2012
In October last year two very caring people, Lynne and Alex found a very sick and exhausted Hawksbill turtle on a beach on the far south coast.
The turtle was initially cared for by WIRES member Janine. After his stay with Janine, Motchy, as he came to be known was transferred to the Merimbula Aquarium where he was housed and looked after for 8 months!
In late March, he was deemed fit to go back home, to the ocean. It was a very special day.
Lynne and Alex, Janine, Michael who cared for Motchy at the Aquarium, and Anthony, the owner of the Aquarium, were chauffeured from Merimbula to Narooma by National Parks and Wildlife Ranger, Craig.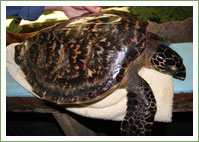 In Narooma they were all greeted by National Parks and Wildlife Ranger Cass, and skipper Mike, who took them by boat to Montague Island for the release.
However, upon arriving at Montague Island, the rangers felt that there were too many fishermen around the island and so Motchy was taken another 300 metres NE of Montague Island to the shelf where he was safely placed in the water and he promptly dove down into the depths of the ocean.
Michael from Merimbula Aquarium is holding Motchy, just prior to his release.
A great team effort has resulted in returning another life back to the wild.
Story thanks to Lois Katz