Learning to fly can be dangerous
Thursday, July 9, 2015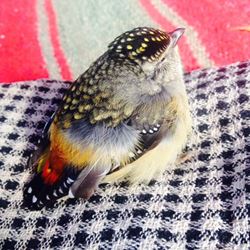 Learning to fly can be dangerous when things like roads with cars are near your nest. This fledgling Spotted Pardalote had a lucky escape from certain death when it was found by a passer-by on a lonely dirt road. The little bird was lying on the road unable to fly.
It was taken into care by WIRES and fortunately was just in need of some TLC overnight.
Nadine, who rescued the tiny bird also noted the exact location where she found it. Knowing where a young bird has been found means there is a strong chance young birds can be reunited with their family.