Kookaburra ingests fish hook
Wednesday, August 24, 2011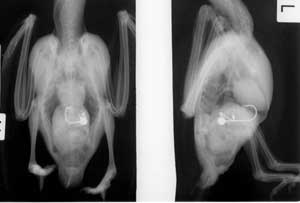 This is a sight our carers unfortunately see far too often. This Kookaburra was rescued from Rose Bay in the eastern suburbs of Sydney.
It was distressed and in very poor condition and was taken immediatley to a specialist vet.
X-rays soon revealed the reason for the bird's distress. A fish hook had travelled down the birds throat and into it's heart.
Surgery was undertaken by a specialist avian veterinarian to save the kookaburra but sadly they were not able to save this iconic Australian bird.
Many vets are dedicated to helping Australian wildlife and donate their services to WIRES, without them it would be impossible to save as many native animals as we do.
Simple ways that you can make a difference today are:
Reuse and recycle
Place rubbish in a securely covered bin
Use a reusable bag for shopping rather than plastic bags
Buy products that have minimal packaging and can be recycled