Koalas struggling with fragmented habitat
Thursday, September 11, 2014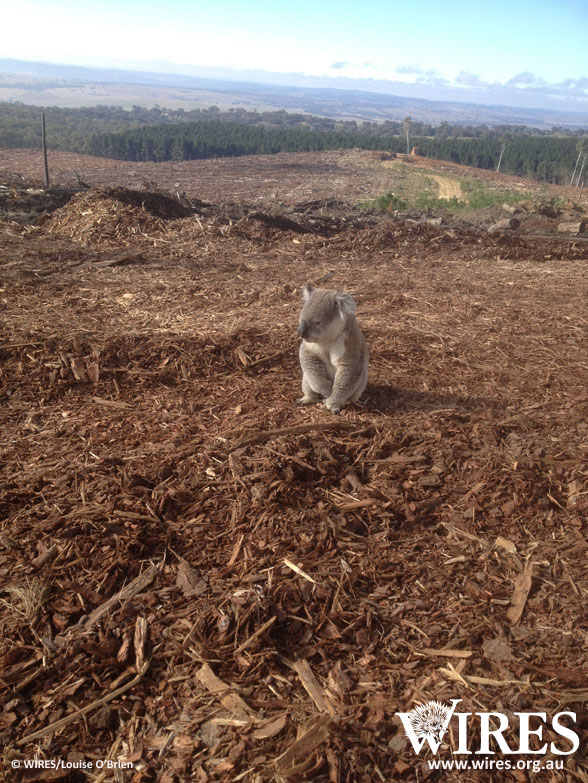 Many of our native species are struggling with fragmentation and loss of habitat and our rescue call volumes are rapidly escalating. We are expecting more than 27,000 rescue calls to help wildlife this spring, many related to the lack of safe habitat.
A rescue story from last year that received a lot of attention and is circulating again on social media is about this koala, rescued by WIRES in April 2013 from a logged pine plantation in the NSW Central West.
A worker noticed the koala had been sitting stationary in broad daylight on top of wood piles for over an hour and they called WIRES.
This image was taken by the WIRES volunteer who rescued the young sub-adult male koala, she could barely believe her eyes and took a quick photo as she set about rescuing him.
The local vet found this koala had an ulcerated eye and was possibly also disorientated.
Thankfully this koala was able to be released a few days later and the plantation loggers also worked with WIRES to relocate several other disoriented koalas to suitable habitat nearby. To help us give more animals a safe tomorrow, please consider joining out team and become a regular donor now.
We are deeply appreciative of the actions taken by the loggers to help the koalas and need more members of the public to help with our wildlife rescue and care activities.
Koalas in Eastern Australia were added to the threatened species list in 2012. In the last 12 months WIRES received calls to help 453 koalas and in recent weeks we have rescued two koalas in a metropolitan area near a wildlife corridor. Both koalas had been hit by cars and one was carrying a joey.
We have already lost too many species. With the number of endangered and threatened endemic species climbing, the active role we play in the world of wildlife rescue and animal welfare is imperative and it's your involvement in our work that makes this possible. Please help us to help more animals.