'Jatz' - Vulnerable Southern Myotis
Friday, September 7, 2018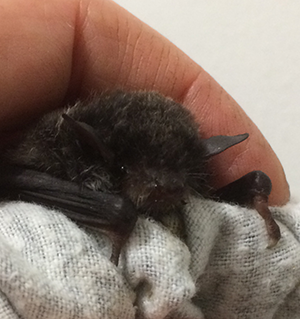 "Jatz" is a juvenile Australian fishing bat, otherwise known as the vulnerable Southern Myotis.
She's a fluffy, salt-and-pepper coloured 10 gram microbat who skims waterways, using her extra-long toes to catch small fish and insects for food.
Jatz came into the care of WIRES in late March after crash-landing on a boat in the remote America Bay at Kur-ring-gai Chase National Park.
We're not sure what Jatz's story is, but we do know she was found lying in a tangle of ropes on the boat, very underweight and in poor condition.
The couple who found her put her into an empty Jatz biscuit box (hence her name) to keep her contained, then rang WIRES.
Because the America Bay area is inaccessible to cars, Marine Rescue sent a boat to pick Jatz up and take her to Cottage Point, where she was handed over to a WIRES rescuer.
After being assessed for injuries, Jatz was sent down to the microbat aviary in Goulburn for rehabilitation and eventually, flight time.
Myotis are a difficult species to care for as they are vulnerable to stress and have highly specialised dietary needs.
Fortunately, Jatz adapted to the aviary surroundings reasonably quickly.
She put on weight, regained condition and after a couple weeks, began to fly well enough to consider release.
The carers set a target date in late April and began phoning anyone they could think of who might have a boat who may be willing to help get Jatz home.
Thankfully, the local Cottage Point publican offered his services.
Two days before release she was driven to Sydney, but poor weather and transport difficulties caused the plan to be postponed.
Worse, because of the stress of a changed environment, Jatz refused to eat.
There was no way they could release a bat that hadn't eaten for a couple of days, so a vaccinated carer drove up to Sydney and took her to Windellama where she returned to her previous routine of eating, flying and sleeping.
Weather charts were studied her release was rescheduled for four days later.
And then, the night before she was due to go home, the temperatures unexpectedly dipped again.
Given that the warm spell is over, her carers have given up on any thoughts of a pre-winter release as the odds of her surviving in the wild when temperatures and insect loads are falling are not good.
So, all fingers crossed that Jatz, the adventurous little bat on a boat, will make it safely through the colder months until spring!
Today is Threatened Species Day, commemorating the day the last Thylacine died in Hobart Zoo. Help us save the vulnerable species that still can be.
Should you need advice or help with injured or distressed wildlife, please ring the WIRES Rescue Number 1300 094 737.