I am more than a number, I am Albie
Thursday, May 9, 2019
Albie was found shivering in the middle of a road, standing next to his mother's body, after she had been hit and killed by a vehicle.
WIRES volunteer Lisa, who is caring for him told me that he was traumatised and suffered symptoms of shock for 48 hours after the accident.
At the time of writing this a week had passed since Albie's rescue and he was doing much better.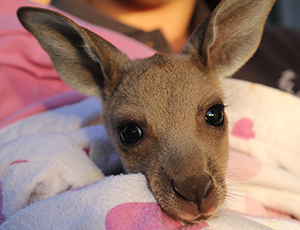 Blackheath was found cold, wet, and alone in the middle of the road at night.
Luckily, a passing motorist spotted him and stopped to help.
He has been in care with WIRES volunteers Jamie and Hayley for a few months, still being bottle-fed twice a day.
Hayley says Blackheath is a healthy energetic boy that is well on his way to release at the end of the year. She says he has an amazing personality, being playful, and loving with a dash of cheekiness.
Every year, hundreds of animal's lives are lost and many more are orphaned. Collisions with vehicles are one of the most common reasons for this, with many of the animals in need of rescue and ongoing care.
Incidents increase during the winter months due to our shorter days. The conditions mean a higher chance of contact with our native mammals when they are at their most active at dawn and dusk.
Animal collisions are most common in winter. The worst month is July.
They often feed close to the road where the food is plentiful and their behavior can be unpredictable, making it impossible for some drivers to miss them.
These factors combined mean cars and trucks are one of the biggest dangers facing our wildlife today.
Joeys that come into care when they are very young can be with WIRES for two years until they are self-sufficient and ready to go back into the wild.
Raising a joey takes an enormous amount of resources, not only the specialized formula but time, energy, and equipment.
Over the next three months, WIRES will respond to calls for help for more than 200 Wombats and 1,500 Kangaroos and Wallabies.
We need your help. Winter is tough and we cannot do it without you.
Please give what you can to our current appeal to help us be there for the hundreds of animals like Albie and Blackheath or join us as a Virtual Carer by providing ongoing financial support.