Helping hands for Hawksbill Turtle
Tuesday, August 9, 2011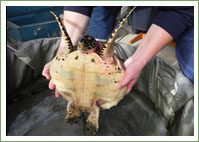 WIRES on the far south coast of NSW took a rescue call about a beached turtle. The turtle had already been returned to the water by a kind local, but had beached itself again. Two WIRES rescuers, Felicity and Emma went out and found an exhausted and injured Hawksbill Turtle.
Hawksbill turtles are listed as vulnerable on the Australian national threatened species list. He was worn out and had two deep puncture wounds on the back of his neck, possibly a seal or shark bite. The wound was infected and when first in care the turtle was too debilitated to even lift his head.
Experienced WIRES carer, Janine, took on the care of this amazing creature and immediately contacted Australian Seabird Rescue (who have a lot of experience with turtles), and Underwater World for advice. In her living room the turtle was placed in a small swimming pool in sea water heated to and maintained at 25 degrees. On advice, his wounds were treated with an antibacterial wound spray, injected with anitbiotics and given intraperitoneal fluids. All thought his chances of survival were not good - however the next morning he was still alive.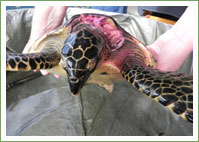 Of major concern was the possibility that he had ingested plastic. Perhaps that was the reason he was attacked and outside his normal range. Turtles often swallow plastic that humans have thrown away as they eat jellyfish as part of their diet and a floating plastic bag looks like a jellyfish. If they take too much on board this is fatal. The best way to tell is to watch his waste. If he is able to pass a 'poo' there is a good chance his insides are not clogged up and he stands a chance of recovering.
Over the first 5 days in care he has showed improvement each day. Fresh seawater had to be collected daily, heated on the top of the stove to the required temperature and maintained with the use of a thermostat. He was by now swimming in his pool and lifting his head easily. However Janine was still on poo watch and very concerned. The wound was beginning to heal.
On the sixth day in care he was transferred to Merimbula Aquarium for short periods so he can swim in a bigger tank and gain more strength. To everyone's great delight that afternoon he poo'd. It was collected into a bucket and carefully checked – no plastic and no build up of sand. Fantastic news.
Every day now he is gaining more strength but has still not eaten. The Aquarium is tempting him with umbrella jellyfish, sea sponges, squid and mussels.
Recent update: He has now eaten and has been moved to a larger tank in the local acquarium. Janine has continued to visit on a regular basis to give him antibiotics and further care. He will spend the rest of winter in the aquarium and be released when waters warm up, possibly up north as they are normally not found much further south than the northern area of NSW.
WIRES dedicated carers spend many hours helping native wildlife in their own time.Think about a regular donation to WIRES to help us, help injured wildlife, just $20 per month can make a difference.
Many thanks to WIRES Far South Coast and Judy Dickmann for this story and photo's.