Help us build a Koala Care Facility - all you have to do is vote
Tuesday, December 1, 2015
Update: January 2016 - Thank you to everyone who voted for our Koala Care facility dream. Your support was fantastic and we came reasonably close second. Unfortunately because we did not win the round and were not able to progress to the grand final and the chance to win the funds that would have allowed us to immediately build a koala care facility. Rest assured we will continue to pursue funding for this dream. We congratulate the worthy winner of the round Ecobarge and wish them all the best in the the final.
WIRES has a dream for a Koala care facility and you can help - it's easy and free
WIRES has applied for a grant via the Sunsuper - 'Dreams for a better World' to help raise funds for a dream we have to build a Koala Care Facility. We have already been successful in getting through the first round and we have $5,000 to go towards this dream of a Koala Care facility for WIRES.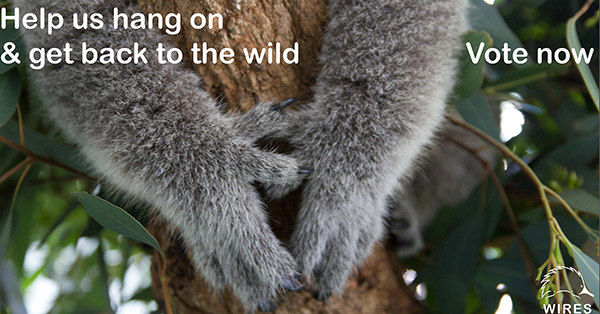 The next round gives us the opportunity to receive a further $5,000 which would put us well on the way achieving this facility. We need your help to get there.
It takes only a minute and all you need to do is vote for WIRES now and share this link with others http://bit.ly/Vote-today and encourage them to do the same
The koalas of Sydney basin are a unique and disease-free colony. To ensure their survival, they need a dedicated facility where injured animals can be rehabilitated appropriately.
WIRES would use the grant to build a specialist enclosure that meets the Office of Environment and Heritage standards. One that is close to their local colony with a plentiful supply of local eucalyptus trees. Last year we received calls to assist 99 koalas in the this area and a dedicated large facility to help with the rehabilitation of injured, sick or orphaned koalas in our care would be simply amazing.
Submit your vote and verify your vote via a link sent by email.