Grey Goshawk Chick
Thursday, November 3, 2011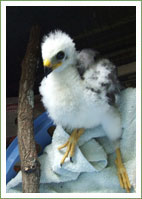 This beautiful Grey Goshawk chick was found under a large gum tree.
The chick had fallen from its nest and injured its wing.
X-rays taken by Casino vet clinic showed no breaks and hopefully with medication and rest it will heal.
She is a very feisty little chick and her carer Mel has to be careful of those big talons.