Green Tree Snake
Tuesday, March 1, 2011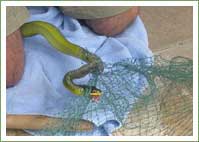 The WIRES rescue ambulance was called out to a northern Sydney suburb when a green tree snake was found entangled in netting.
Our ambulance operator had to proceed very carefully to ensure the reptile was removed from the netting with as quickly as possible.
She had been trying to get out of the netting and had inadvertently swallowed quite a bit of the netting.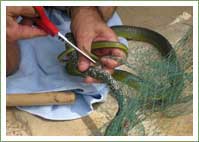 After extracting her from the netting Barry took her to David Vellla a reptile specialist at North Shore Veterinary Clinic who found her jaw was slightly out of alignment.
She has been in care for several days and has now been given the all clear for release as her jaw is now realigned and she will be released back into the area where she was rescued.