Ginger & Fizz - not as innocent as they look!
Thursday, November 26, 2015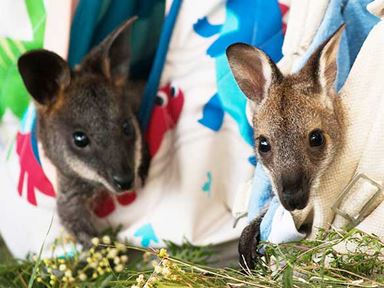 The joey in the foreground hanging pouch is Ginger, she's a female Red-Neck Wallaby joey who came into care in August as a just furred 'velvet' at 700g, or about 5 and a half months old.
Her mother was found dead on a rural property. She was found near a fence so it is possible she fatally injured herself attempting to jump over and Ginger was found by the property owners in her pouch.
She is now about 1.2kgs and doing very well in care.
Fizz, in the background of this image is a Swamp Wallaby joey and you can 'spend the month' with him next February as he is featured in our WIRES 2016 Calendar. In our calendar you can see him in his pouch when he was around 6 months old, less than a week after coming into care, also in August this year, at that time he weighed just 950 grams.
The kind motorist who unfortunately collided with his mother was wise enough to do a pouch check, and called WIRES on discovering a joey.
Fizz is now over 3kgs and still thriving in care. His carer, Lilly tells us "he is not half as innocent as he looks! Nobody can rest when Fizz is around"