Fur Seal - Sleeps off a long swim
Tuesday, July 5, 2011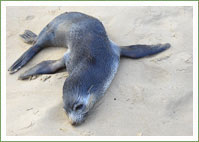 Pictured is the male juvenile sub-antarctic fur seal who spent a few idyllic days on Tathra Beach, on the far south coast of NSW.
This little charmer dragged himself up onto the beach completely exhausted on Wednesday, 29 June at 7 am. Well, if you had just swum from Macquarie Island in the sub Antarctic, you'd be pretty tired too!
He was so tired that, once on land, he lay his head down on a walker's foot and went directly to sleep. Luckily, this foot belonged to a kind person named Catherine, who rang WIRES.
WIRES is not licenced to treat dolphins, seals or whales, so we rang National Parks for their assistance. The rangers were wonderful and immediately came out to provide advice and assistance. They identified the seal and provided signs and tape fencing to help inform the public where the seal came from and to help protect him.
WIRES also contacted ORRCA (Organisation for the Rescue and Research of Cetaceans) for help. The ORRCA volunteers were very helpful and provided a good deal of advice, guidance and support.
Whilst it is not rare for these seals to visit the shores of NSW, it is uncommon. They are smaller than the seals that normally live here and have the most beautiful orange/tan bellies. This lovely fur was the reason that they were almost hunted to extinction but now these precious animals are protected and it is a crime to injure them.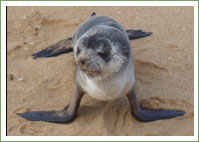 The young seal spent his days sleeping soundly on the beach and, then about sunset, would go into the surf to look for fish that surface at that time. Because he slept so soundly, WIRES and local volunteers formed a roster and kept an eye on him in case a curious dog spotted him. A frightened seal will bite to protect itself and the bite could result in a nasty disease to a person or dog.
WIRES is happy to report that Bega Valley residents and visiting tourists, were thrilled about having such a celebrity in town and were so supportive of the effort to make this Fur Seal's visit a safe one. Dog owners were very co-operative and kept their pets on a lead and at a distance.
The seal has now moved on. He had rested up and had actually gained weight. We hope that someday he makes it back to the Macquarie Islands to breed and help the Fur Seal numbers continue to grow.
Many thanks to everyone involved.
Story thanks to Lois Katz