Flooding impacts on wildlife
Thursday, January 13, 2011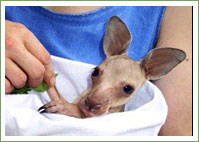 Wildlife battered by floodwaters in southern and northern New South Wales face a long road to recovery.
Joeys washed from their mothers' pouches, waterlogged birds unable to find food and destroyed habitats are among our greatest concerns.
WIRES general manager Leanne Taylor said birds in the Clarence Valley and Northern Rivers area in northern NSW had been found suffering from malnutrition while baby birds washed out of nests were unlikely to survive.
There are also fears for animals like wombats and echidnas living in burrows likely to have drowned.
Vital food sources like grasses washed away will starve animals and expose some to predatory behaviour by feral or other native animals, Ms Taylor said.
Prolonged wet weather and the subsequent floods, have impacted wildlife from the Murray River area in the south to the far north coast of NSW and beyond.
In the south, wombats have been rescued from floodwaters while in the north, eastern grey kangaroo and red necked wallaby joeys have been orphaned.
This young 5 month old Eastern Grey Kangaroo was found alone by Julie at Backmede, the little roo was cold and wet and very vulnerable.
Julie called WIRES, who soon collected the little joey and quickly transported him to one of our macropod carers where he was stabilised and treated for shock. He has now been settled in his new environment with other joey's in care.
He will spend many months in care, and will be released back to the wild when he is old enough to fend for himself.
Please help us to help them, donate online now. Alternatively check our training schedule and consider becoming a WIRES carer in 2011.