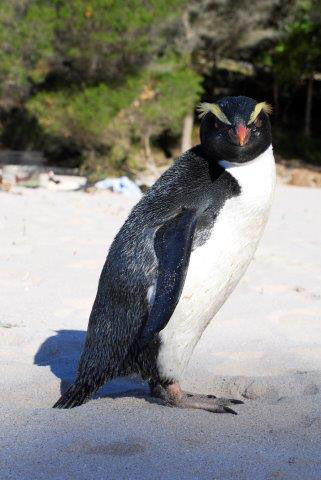 Fiordland Penguin
Tuesday, October 1, 2013
In October 2013 a woman walking on Tura beach noticed a bedraggled penguin lying among the rocks on the shore line. She immediately called WIRES and this Fiordland Penguin came into care.
It is not very often these penguins are seen on our shores, the last record for a WIRES rescue of this species was several years ago.
These penguins are normally found along the coastal strip of the New Zealand Fiordland and on Stewart Island. It is estimated there are less than 3000 breeding pairs left and they are under threat from predation. The warming of sea temperatures in the past 50 years is also thought to have had an effect on the food species of penguins.
This penguin has been injured by either another marine creature or a propeller and has a wound on his chest which is now healing well.
Janine, his WIRES carer says he has been through 2 kilo's of pilchards in 3 days so he is certainly eating well.
Fiordland penguins are monogamous and often mate for life. When they are not breeding the pairs separate but return to the same beach in breeding season and search out their mate from the previous season. The adult birds stand about 60 cm and weigh about 4 kg.