Feathertail Gliders
Wednesday, June 22, 2011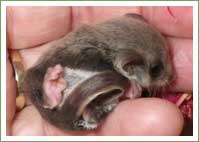 Two very young, very tiny feathertail gliders were in care with our WIRES team in the far south coast of NSW.
The first, weighing 5.6 grams was found on the walking track between the airport and Merimbula. Her finder took her to our local Veterinary Clinic at Pambula and Wires was contacted.
This little glider was healthy and active, but too young to be released. She was buddied with two other gliders in care and when ready this small group was soft- released on private property at Myrtle Mountain.
The second feathertail was very tiny, weighing only 2.7 grams. He was found crying on a shelf in a welding workshop which has a bush setting as a backdrop. A humidicrib- like cabinet was set at 28 degrees to keep him warm, but this little glider only survived for four days.
Being a wildlife carer brings with it lots of happiness when our animals are successfully rehabilitated, however, there is always sadness when we are unable to save them. Read more about Feathertail Gliders.