Fast flying and youth combine to cause concussion
Wednesday, September 20, 2017
During the next few months, many juvenile birds of prey begin dispersing to make their own way in the world and as these 'teenagers' venture forth, mistakes are made that result in injuries.
Concussion seems to be a common thread as a result of flying and judgment errors or perhaps just being in the wrong place at the wrong time. These high-speed flyers then come into contact with both human and natural structures with a force that can have serious consequences. In just the last few weeks one of our specialist raptor carers in the south of the state has had two juvenile Boobook owls, a juvenile Nankeen kestrel, and a female Brown falcon in care, all suffering concussion!
This spectacular adult female Brown Falcon, was one recent patient.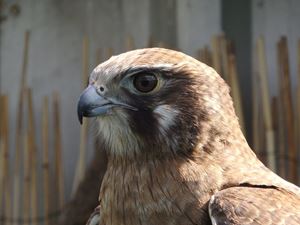 Rodney, saw her collide with a structure and fall to the ground so as he was working nearby he kept an eye on her to see if she would recover and take off.
After watching for some time and seeing her starting to be attacked by the local magpie flock and still unable to fly away he decided he had to intervene.
Normally we do not advise people to approach birds of prey as they can be large and feisty birds. In this instance the location was very remote and she was very docile as a result of the concussion, so Rodney was able to safely and gently contain the falcon. He then drove a considerable distance to meet up with Shelly our local, trained raptor carer.
Luckily for her x-rays, observation and flight checks cleared her of any injury and she appeared back to full strength so the decision was made to get her quickly back to the wild. At this time of year she may still have had chicks in a nest.
Although both sexes of this species share incubation of the eggs and both care for the young, it is the female who performs the bulk of these duties while the male supplies most of the food.
The long drive was made back to where she was rescued and after initially trying to exit from the rear of the cage, Shelly reports she was soon airborne and another of our special native raptors was successfully released.
These falcons are known to live for up to 18 years in the wild so we hope she has a second chance at a long life back in the wild.