Endangered Joey cut off by floods
Monday, January 24, 2011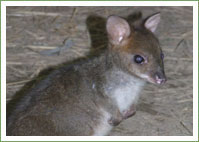 Dianne's son was out looking at the flood waters at Tabulam in northern NSW when he came across a dead wallaby hit by a car.
Being responsible even in the midst of the flooding, he checked the pouch and this little threatened species Red-legged Pademelon joey was saved.
Dianne called WIRES for help as the family was cut off by floods and would be isolated for at least 5 more days.
Luckily she had some formula on hand that would be suitable for a little joey and over the next 5 days the family did a wonderful job feeding and caring for this little joey.
As the water receded the joey was brought in to care with WIRES and she is now in the company of another 5 joey's. She will be released back to the wild in about 5 months time.
WIRES would like to thank Dianne and her family for rescuing and taking such good care of this young joey until she could be safely put in the care of a WIRES carer.
NSW NPWS describes the red-legged pademelon as a small, compact wallaby with soft, thick fur, grey brown above, pale grey below and rufous brown on the face, forearms, flanks and hind legs. The tail is short and thick
They are known to inhabit forest with a dense understorey and ground cover, including rainforest, moist eucalypt forest and vine scrub where there are wet gullies with dense, shrubby ground cover provide shelter from predators.
In NSW, they are rarely found outside forested habitat. They disperse from dense shelter areas to feed from late afternoon to early morning, favouring native grasses and herbs on the edge of the forest.
They are also known to feed on fruits, young seedling leaves and stems, fungi and ferns.
Story and image thanks to WIRES Northern Rivers Branch