echidna-tangles-with-traffic
Thursday, September 8, 2011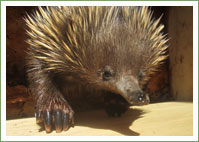 The echidna is generally quiet and reclusive, so when WIRES rescue call centre received a call from a concerned member of the public, who had seen one at a busy intersection at Kings Langley in Sydney it was a bit out of the ordinary.
WIRES carer Adrian went quickly to the intersection, the corner of the M7 and Sunnyholt Road was not a place where an echidna should be hanging out!
Luckily Adrian got there before he came to any harm.
Often when an echidna is found in an urban environment it is a young male that has strayed away from nearby habitat while dispersing and looking for new territory. In this case there was no habitat nearby and it is possible he was dumped there. The lack of nearby habitat meant a suitable release site would have to be found.
Adrian called in the experts, long time WIRES volunteers Maggie, Barry and Marj for advice. With a great team effort and advice from a National Parks ranger, a local population was identified at Cattai National Park and Adrian was able to successfully release the male echidna into the bush.
The short-beaked echidna is protected in NSW and although relatively abundant and widely distributed within NSW and Australia it is not readily seen in the wild because they are quiet and reclusive.
In temperate climates, echidnas are most often seen during early morning and in the late afternoon, as they tend to avoid temperature extremes.