Echidna found stuck in a jar
Friday, February 8, 2013
This distressing image is of a dispersing juvenile echidna that was found at Ballina in a very distraught state. The inquisitive young echidna had his face and head stuck inside a glass jar. Not knowing how long this little echidna had been in this situation the WIRES rescue hotline was called and WIRES volunteer Callum went out to help. On closer inspection, the jagged glass jar was not going to be easily removed without risking injury.
He was taken to Conway St Vet at Lismore and they carefully removed the glass while the echidna was under anaesthetic. The young echidna was then returned to WIRES for recovery. He was lucky to escape this ordeal with no wounds and a few days in care with good, food was all he needed for recovery before being release back into the wild.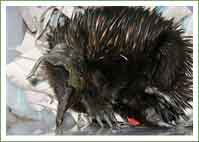 During summer and autumn young echidnas are dispersing from their burrows and at this time they are very, very inquisitive as they explore the world outside their burrows. Please remember it helps to keep things tidy around your home and property to ensure wildlife does not become accidentally caught, stuck or entangled.
Here he is looking fit and healthy just before his release back into the wild.