Eastern snake-necked turtle
Tuesday, September 13, 2011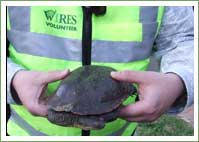 On Wednesday a WIRES volunteer rescued a Snake-necked Turtle from a North Wahroonga backyard pool where it had taken up residence about 3 weeks ago.
The private pool backs onto the Ku-Ring-Gai Chase National Park and provided shelter and an interim home for the turtle which probably came up from Cockle Creek.
It's currently in care with a Reptile Co-ordinator, where it will have a few days rest and then be released near the Creek.
These turtles spend most of their time in the water, but they do make overland movements in search of new waterholes and nesting areas.