Eastern Pygmy-possum rescued in northern Sydney
Thursday, May 2, 2013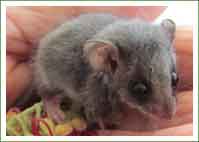 This male eastern pygmy-possum weighing in at 4gms is responding well to care by a WIRES volunteer. The possum was found on the front door step by a homeowner at Ingleside, Sydney NSW one week ago.
The tiny animal is in good health and recovering rapidly.
WIRES volunteer, Norma reports that "At present, he is putting on about one gram per day and now weighs in at 11 grams. That's 7 grams heavier than when I first took him in."
The male native eastern pygmy possum was first taken to a veterinary clinic in Mona Vale. "It is rare to see these animals – literally! They are so tiny. It's amazing that the kind lady who took him to the Mona Vale vet even saw him on her doorstep.
"Since he has been in my care, he has grown to about half the size of my thumb."
The native eastern pygmy-possum can often be mistaken for a mouse, however there are some easy ways of distinguishing them.
"They have larger brown eyes than a mouse would as they are nocturnal animals, and cutest of all, they will wrap their tail around your finger. The possum uses that tail to climb through the trees at night," says Norma.