Cygnets adrift in flooding
Thursday, January 27, 2011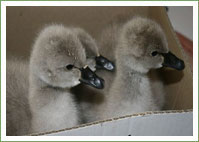 Three eggs were found floating in floodwater as the floods swept through northern NSW.
Their nest had been washed away by the flood. The girl who found them took them home to her sister, new WIRES carer Cherry, who was able to borrow an incubator to keep them safe and warm.
Although hoping for the best they were still shocked, when not long after they had set up the incubator, they saw the eggs rocking and heard them cheeping.
Believing them to be Black Swan eggs Cherry sought advice from an experienced WIRES carer, Pam who has been caring for cygnets for a number of years and she gave them advice over the phone on how to best care for the eggs.
After 24 hours the cheeping was becoming less and still no signs of breaks in their shells so it was decided to intervene and help them out. This was very nerve wracking for Cherry and her sister but they managed it and successfully hatched 3 healthy cygnets. They are now being cared for by Pam and living 6 week old orphaned cygnet. They will be in care approximately 6 months.