Cedar Creek wombat
Tuesday, October 11, 2011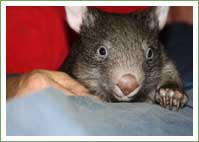 A man driving through the Watagan forest accidentally hit and killed an adult female wombat. Fortunately he decided to go back and check her pouch and found a young unharmed joey in her pouch.
He wrapped her up and headed back to Sydney before ringing WIRES. She was uninjured but weighed only 1 kg and was only about 20 cm long.
Despite her size she was very strong and and was not very impressed with being bundled into a pillowcase, for the return trip back nearer to where she had been found.
The local WIRES wombat carer thought the orphaned joey would have a better chance of survival and eventual release if she went back closer to where she came from and took her to Roz, a wombat carer at Cedar Creek.
She is reportedly doing very well, has grown considerably since she came into care, is very cheeky and has a buddy to share her time with while she is in care and is old enough to be released.