Barn Owl looking for a hollow to call home
Tuesday, October 18, 2011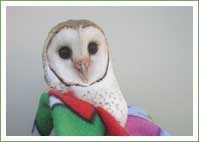 WIRES often has more in owls in care at this time of year as the juveniles from the winter breeding begin to disperse to find their own territory.
This year the numbers seem even higher with with one carer in the North West of Sydney having three juveniles in care in just one week.
They have come into care from all over the state including many unlikely city locations, one this week was found under a building in Darling Harbour!
It is thought that with such an abundance of food (thanks to the mouse plague in the west of the state) earlier this year, the owls had a very good breeding season.
Now the young juveniles must find their own territory and hollows. Unfortunately as habitat loss continues unabated finding hollows and suitable territory becomes more difficult. Also as the mouse plague subsides, food sources are depleted and many of the birds we are seeing are undernourished.
As owls are predators of many smaller birds they often 'gang up' on lone juveniles and one of the owls in care had a nasty chest wound that had been inflicted by other birds protecting their turf. Luckily he made it to WIRES and was able to be stitched up by a local vet and should make a full recovery. Feeding raptors in care is expensive, consider a donation to help us help wildlife.