Barn Owl goes back to the wild
Thursday, August 4, 2011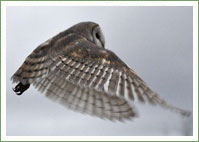 WIRES Weddin-Lachlan member Jenny, recently received into her care a beautiful Barn Owl. The owl was found near Cowra, in NSW.
Jenny believes it may have been the victim of a collision with a motor vehicle.
After a thorough examination and ongoing observation it showed no signs of injury, and after one night in care Jenny was able to release it the next day on dusk.
While Barn owls are widespread across the state they are not often seen as they are most active at night when they are hunting for food.
Barn owls feed on small mammals, mainly rodents. One of their favourite foods is the introduced pest the house mouse. These owls hunt in flight, finding prey on the groundusing their exceptional hearing. Because many birds, including these very special Barn Owls prey on small rodents there has been some concern about the impact of mouse baiting. Of particular concern are illegal homemade baits.
Animal rescue and conservation groups are monitoring birds that could die after eating poisoned grain while owls and other birds of prey could die after eating poisoned mice.
Birds Australia conservation manager Samantha Vine has said: "The real problem occurs when farmers resort to making their own, illegal baits using cocktails of chemicals, including insecticides".
"Illegal baits are not mouse specific and may not result in a reduction in mouse numbers, yet they can be particularly lethal to birds that eat poisoned grain or poisoned mice," she said.
WIRES urges all householders and farmers to please be aware of the impact on wildlife, and ensure these birds are around for many years to come.