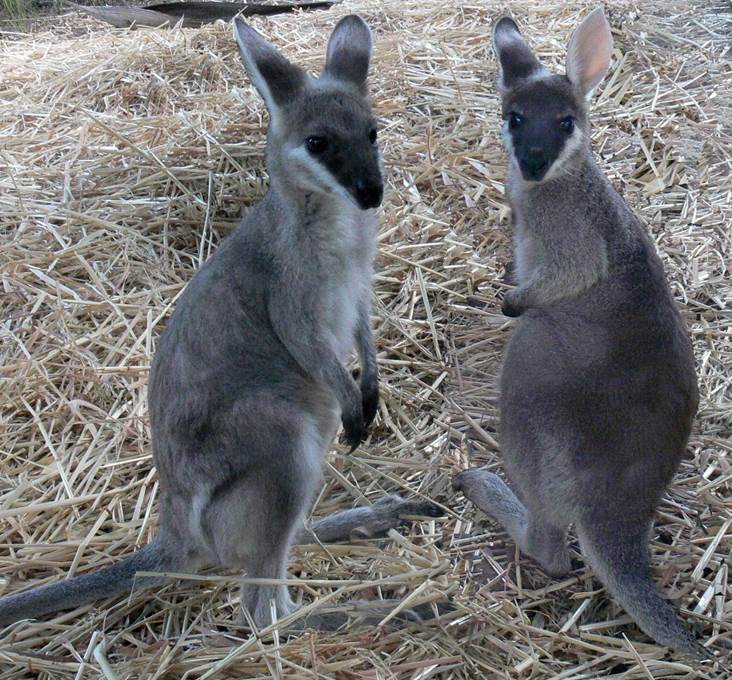 WIRES Clarence Valley calls for more volunteers to help save local native wildlife
Tuesday, May 3, 2016
Darvla and Sherrie the whip-tailed wallabies (Photo credit; P Edwards, WIRES)
WIRES* has put out a plea to members of the Clarence Valley community to consider volunteering to help save the lives of native animals in the local area. WIRES is holding an accredited Rescue and Immediate Care Course on 15 May at Grafton where local residents can learn the basics of native animal care from professional trainers and fellow volunteers.
Local volunteer, Patricia Edwards has been a WIRES member for over 20 years and is currently caring for two whiptail wallaby joeys which are almost ready to go back into their natural environment thanks to her dedicated care.
The first Joey nicknamed 'Sherrie' was rescued after being thrown from her mother's pouch and weighing less than 800g and the other, nicknamed Darvla, was rescued after her mother was hit by a car.
"Sherrie and Darvla are now firmly bonded and we'll be releasing them together," said Edwards. "It's just so rewarding to be able to rescue and rehabilitate these beautiful creatures for future generations to enjoy, I've enjoyed every minute of my two decades of volunteer work with WIRES"
For more information about the accredited WIRES Rescue and Immediate Care Course on 15 May at Grafton please visit wires.org.au or email [email protected].
*WIRES is celebrating its 30-year anniversary this year with the organization growing from one branch in 1986 to 27 branches across NSW and 2500 dedicated volunteers today. To mark this milestone, throughout 2016 WIRES will be presenting Special Recognition Awards to individuals and companies that have demonstrated a commitment to support and protect NSW's native animals.
To organise an interview with WIRES Volunteer Patricia Edwards please call Carla Toyne on 02 89773327 / 0416 272 153 or email [email protected]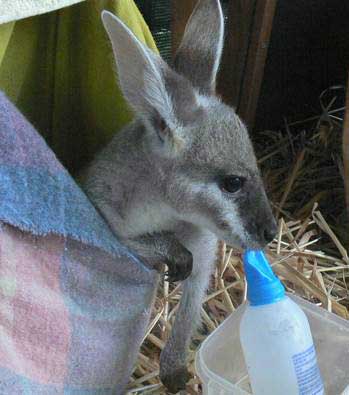 Feeding time for Sherrie the whiptail wallaby (Photo credit; P Edwards, WIRES)
High res photos available on request.
---
ABOUT WIRES
WIRES is Australia's largest wildlife rescue organisation. WIRES has been rescuing and caring for sick, injured and orphaned native animals for over 35 years with a mission to actively rehabilitate and preserve Australian wildlife and inspire others to do the same. WIRES' Wildlife Rescue Office answers calls from the community 24/7, 365 days a year, providing rescue advice and assistance for over 130,000 animals annually. Connecting wildlife to real-time assistance, WIRES full-time mobile Wildlife Ambulances operate across New South Wales, South-East Queensland and Tasmania, and WIRES had over 3,500 volunteers assisting with wildlife rescue and care in NSW. WIRES is supporting thousands of wildlife carers across Australia through a diverse range of national programs. WIRES also collaborates nationally with strategic partners to support the long-term recovery of wildlife habitat and the long-term preservation of native species in the wild.
For more information on WIRES wildlife programs visit www.wires.org.au.
MEDIA CONTACTS
WIRES Media Officer: John Grant | 0416 272 153 | [email protected]