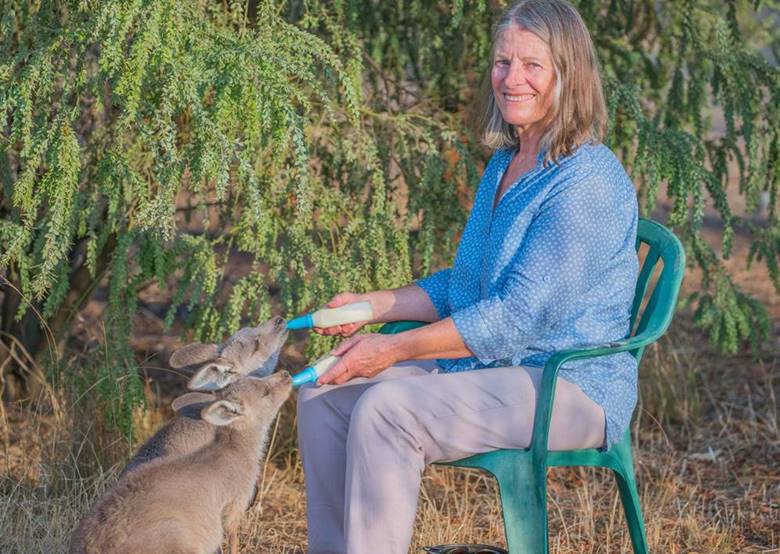 WIRES Celebrates 30 years of rescuing NSW's native wildlife
Friday, April 8, 2016
When Mikla Lewis founded WIRES (Wildlife Information, Rescue and Education Service Inc.) back in 1986 little did she envisage that 30 years later the not-for-profit organisation would have expanded from a single branch in Sydney to 27 branches across NSW and boast over 2500 dedicated volunteers.
Over the past decade alone, WIRES has fielded more than one million calls to either rescue or give advice on NSW's native species ranging from koalas to snakes to Wedge-tailed Eagles.
In honour of the 30th Anniversary, WIRES will be announcing presentations of the inaugural WIRES Recognition Awards throughout 2016 to individuals and groups who have significantly assisted in the protection and/or care of our native animals.
Ms Lewis decided to form the organisation with the help of a small group of people from various environmental groups following a report of an injured ibis in Sydney's Hyde Park and none of the existing animal welfare bodies had either the jurisdiction or the manpower to implement a rescue.
The organisation had its official launch at Bradley's Head on Sydney's North Shore in late March 1986 and Mikla continued spreading the word about the WIRES mission - and the people of NSW responded in droves!
"The response was overwhelmingly positive from the very beginning," said Ms Lewis. "From young people to retirees, from city dwellers to rural Aussies, people from all walks of life from across NSW put up their hands to help preserve our native wildlife – I was really touched by the public's commitment and care, which continues to this day."
"WIRES role is increasingly important as habitat destruction continues to affect wildlife throughout NSW."
WIRES CEO Leanne Taylor said Mikla's passion to help our native animals remains just as dedicated as it was 30 years ago.
"Such is Mikla's passion for our native wildlife and the environment, that she has placed 150 acres of her private property in Grenfell NSW under a Voluntary Conservation Agreement (VCA) so it is protected in perpetuity," said Taylor.
"Thanks to her determination to make a difference, she has helped to ensure our unique native animals will be here for future generations of Australians to enjoy."
Lewis was awarded the Order of Australia (OAM) in 2012 for Services to Conservation and the Environment.
If you find an injured, orphaned or displaced native animal please call the WIRES Rescue line ASAP on 1300 094 737. WIRES relies almost entirely on donations to continue its work rescuing, caring for and releasing native Australian wildlife and tax deductible donations (over $2) can be made at wires.org.au or on (02) 8977 3396.
For an interview with WIRES founder Mikla Lewis and/or WIRES CEO Leanne Taylor please call Carla Toyne on 02 8977 3327 or 0416 272 153 or email [email protected]
---
ABOUT WIRES
WIRES is Australia's largest wildlife rescue organisation. WIRES has been rescuing and caring for sick, injured and orphaned native animals for over 35 years with a mission to actively rehabilitate and preserve Australian wildlife and inspire others to do the same. WIRES' Wildlife Rescue Office answers calls from the community 24/7, 365 days a year, providing rescue advice and assistance for over 130,000 animals annually. Connecting wildlife to real-time assistance, WIRES full-time mobile Wildlife Ambulances operate across New South Wales, South-East Queensland and Tasmania, and WIRES had over 3,500 volunteers assisting with wildlife rescue and care in NSW. WIRES is supporting thousands of wildlife carers across Australia through a diverse range of national programs. WIRES also collaborates nationally with strategic partners to support the long-term recovery of wildlife habitat and the long-term preservation of native species in the wild.
For more information on WIRES wildlife programs visit www.wires.org.au.
MEDIA CONTACTS
WIRES Media Officer: John Grant | 0416 272 153 | [email protected]